Housing. Healing. Wholeness.
Mental Health Association Oklahoma
"We are the state's premier boots on-the-ground nonprofit whose expertise and work exists primarily at the intersection of mental illness and homelessness – fighting every day to promote mental health, prevent suicide, end homelessness and transform the justice system."
– Terri White, Chief Executive Officer
Our work includes housing, mental health education, support groups, counseling referrals and mental health screening, suicide prevention, peer-to-peer recovery services, employment readiness, community health and wellness initiatives and criminal justice advocacy. Our housing program uses a Housing First Model that provides access to safe, decent and affordable housing for individuals who have experienced mental illness, homelessness and substance use disorders.
We meet you where you are. Our Tulsa Mobile Medical Intervention Team, along with OKC's Community Health and Wellness initiative, provides primary patient care for our tenants within MHAOK's housing complexes as well as for people living on the streets who have been impacted by mental illness, a substance use issue and homelessness.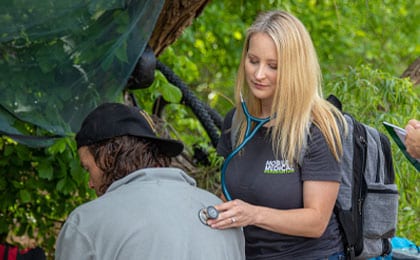 Donate today and be an advocate for mental health! Together, we are able to carry out the mission of promoting mental health, preventing suicide, ending homelessness and transforming the justice system.
We're asking people to stand in and speak out to help their community by advocating for suicide prevention, ending homelessness, promoting mental health and criminal justice reform. Find ways to get involved in person or from a distance.
We are here to help you navigate community resources and mental health services. We can provide you with information and resources related to mental health and homelessness, including how to access services, support programs and more.